Chris re-designed a few blogs this week. They turned out great, so I thought I would do some bragging and a shameless plug. :)
First of all, I've given him a lot of experience. He no longer thinks four or five re-do's is a big deal. He has pretty good blog-design-radar.
His first paying customer, ever, was Kassie from
Southern Girl Gets Fit
. She's a wedding planner from Louisiana. Kassie posts about her different work outs and meal plans. She is very bubbly and fun... I think her new blog layout fits her perfectly.
Then Kassie recommended Chris to her friend Leigh Ann Noel at
Elle Noel
. And since my sister's name is Noel, it was hard for me not to call her Noel at the beginning of every email, but that is what Chris and I called her in conversation.
She told Chris that she wanted classy-girly design with a side of trash. What man doesn't love to hear that? She has lost over 40 pounds and looks AWESOME. I want her hair and some of her motivation.
And then the latest blog that got re-designed is Lindsay from
Mommarazzi
.
Let me just say that this woman is amazing. She has a 4 year old little cancer survivor, a two year old, and then a set of 7 month old twins. In one of her first emails, she said she hasn't posted on the blog much because she has been busy.
Understatement of the year.
I don't know how she had time to send the email. :)
Lindsay is just waiting on her photographer to send her an image for her blog, then she'll be good to go.
If you're interested in a blog design, see the tab on the left. Chris is charging a $40 flat fee and his turn around time is about three days. His PayPal money is my Zappos money, so my ugly-mom clothes thanks you.
--------------------
Also, be sure to come back on Tuesday for the "Day in the Life" link-up party with my friend
Amy
.
I posted detailed instructions yesterday, since a few people haven't participated in link-up before. You can read that post
HERE
.
Just write a post about your average day.
Copy and paste this blog HTML in your post.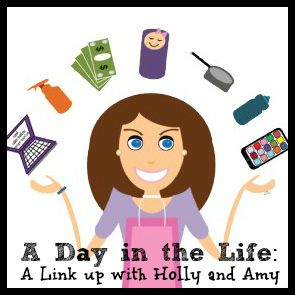 And then come back to my blog to link up in the fun.
You'll be prompted to enter your name and blog website.
Jump around and find new blogs to read.
-----------------------
Have a HAPPY Friday!