If you are on instagram (@
hollystanfield
), you might have seen the hash tag #operationredbikini. Kassie from
Southern Girl Gets Fit
kicked this off a few weeks ago. Bikini bodies are made in the winter, right?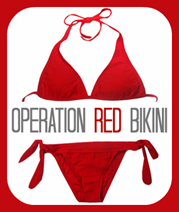 Well, there is no way in hell that I would put on a bikini today. The Activia I have been choking down can't even get rid of my middle bloat. And a red bikini isn't really my goal... My goal is just not to be a fat Six Flags mom, who wears a one piece with a skirt and a t-shirt over that IN THE POOL.
Small dreams.
Anyway, to go along with Weigh in Wednesday with
Erin
and
Alexandra
, I thought I would share what I am doing to get a smokin hot 130 pound bod. 130 is the ultimate goal.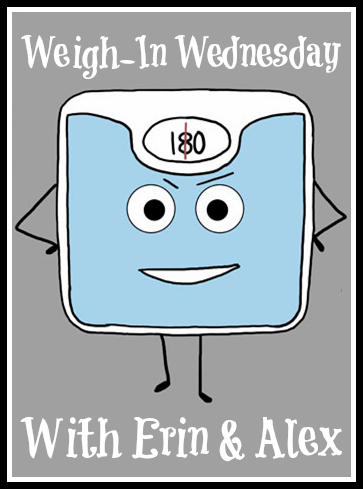 + I am still drinking about 80oz of water a day
+ I should be counting my calories, but I've just been eating healthier snacks
+ Lots of hard boiled eggs, lentils, green beans
+ Trying to cut back on the bread
Sunday night through Thursday, I can do this without problem. Friday, Saturday, Sunday, I eat like it's the only way into Heaven.
Half marathon status?
Still jogging. :) Jogging because I don't know if anyone runs a sexy 12 minute mile like me. But I have a 10k this weekend with
Darci
,
Molly
, and
Amanda
... So I am hoping that is what kicks my butt into gear.
Workout status:
+ I bought the 30DS again. It's great for me to do at night while Chris plays with the kids.
+ Still doing cardio during my lunch. I usually split it up half elliptical, half stair climber. Then end with lunges, squats, and sit ups. And then I go back to my desk looking like a purple pig.
But if anyone needs motivation to lose weight, please check out these blogs:
Elle Noel. If you are not following her blog, please click over
HERE
now. Leigh Ann is one of the most motivating blogger friends. She has gone from a size 16 jean down to a size 2 dress. With lots of clean meals, workouts, and more will power than dimples on my legs. Seriously, I heart her mucho grande. Find her on instagram (@
ellenoelfitness
).
And next up is Amy from Write This Down. I met Amy in Tulsa and thought she might be 27... then I started reading her blog and found out she was in her mid 30's. Girlfriend looks good. She has also stepped it up big time with her races and in the gym. She has also lost a good chunk of weight and keeps me motivated. I love checking out her instagram (
amy_writethisdown
) and blog
HERE
.
And finally, my little Lora Poo. Lora blogs over at Raising Steppe Sisters. Pending that she doesn't get pregnant in the next few months, we are doing the St. Louis Go! Half marathon together. I like Lora because she keeps it real. Talks about how difficult it is to lose weight when your husband wants to pig out all of the time. :) But more importantly, she is just an awesome cheerleader for everyone... and funny. Check out her instagram (@
mrsloyoung
) and her blog
HERE
.
---
And if anyone is wanting to run the St. Louis Go half marathon in April, shoot me an email. It's April 7th and there is a big group of us blogging moms running it together. The more, the merrier.