Thanks for all the love on my post on Friday, dedicated to
my top 10 followers
since the beginning. I am so happy that many of you decided to say hello for the first time.
Today, I am getting together with Kristen from
First Name Smith
and
Little Laws Prints
for....
Holly & Kristen's 1000 Followa Make Yah Holla Giveaway!
We decided to team up since we have about the same number of readers, but we each of different folks from different strokes. I love Kristen and I know you will too! She is the girl with the best eyeliner and one-liners around.
As a thank you and a big wet kiss, we have put together the following three prizes: $50 giftcard to Tarjay, FREE blog design
(for Blogger only)
from that hottie with a body-
Hubby Jack
, and a FREE set of invitations & thank you notes from
Little Laws Prints
.
There are multiple ways to enter:
1. You
MUST
follow both
Kristen
and myself. -
REQUIRED
Optional entries
2. Follow Kristen on pinterest
HERE
.
3. Follow Holly on pinterest
HERE
.
4. Follow Little Laws Prints on facebook
HERE.
5. Follow Holly on facebook
HERE
.
6. Follow Kristen on instagram (@frstnamesmith)
7. Follow Holly on instagram (@
hollystanfield
)
8. Follow Hubby Jack
HERE
.
9. Grab the button and blog/instagram about the giveaway!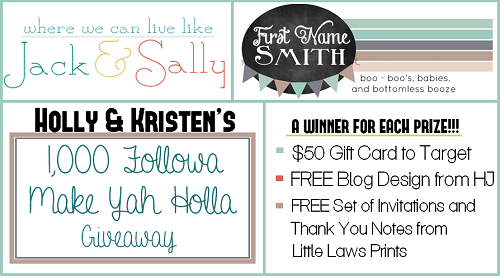 Also, I am guest posting for Erin at She's a Big Star today. Girlfriend is probably exhausted from all of her fun at the Grammy's last night. Check out the post
HERE
.