It's that time of the month.... Time for a Finish the Sentence linkup with Jake from
Life of Jake.
Like always, the person with the funniest answers wins a $20 e-card to Target. Just be sure to copy the code from the button below and paste it into the HTML tab of your post. After you're done writing your post, come enter your blog at the bottom.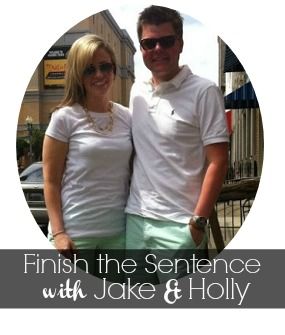 1. My favorite Christmas was.... probably last year with Haven and Olive. It was her first real Christmas and the first one that Haven got into Santa. And now I have a picture of him with a blonde mullet rocking a holly berry turtleneck forever.
2. The worst Christmas I had... was probably the one when my dad drove to the border of Alabama to get us matching sweat suit outfits. It must have been before Al Gore invented the internet and you could just purchase these things online. Instead, he drove through five states and came back and insisted we "smile bigger."
3. That one gift that made me scratch my head and say, "Hmmmm" was... the earrings that Chris bought me
HERE
. The ones he bought from the scary-as-shit-outlet-mall with the last money to our name. The ones were you had to screw them into your ear and probably get a tetanus shot before wearing them.
4. One year I.... re-wrapped all of Olive's birthday gifts and stuck them under the tree. I am doing that with a few again this year. This is probably the last time I can get away with it.


5. I think the worst gift to give is.... cookies. The people that spend $864 on cookie supplies to sit and bake for weeks on it and then we all get an assortment plate. Don't bother. Give me a box of Oreo's and we will be better friends.


6. At Christmastime I typically.... do nothing but shovel food in my mouth, spend my living on Christmas ornaments, and flip my shit when the house is destroyed.


7. Typically, family Christmas.... too short, but not over fast enough.


8. If I could change one thing about the Holiday season.... there would be no presents and we would just take a vacation somewhere warm.


9. It is so hard to buy for.... me! Because I know the passwords to our online banking and am the biggest snoop dog in the world. I am never surprised by my Christmas gifts from Chris. Except the earrings.


10. My favorite Christmas tradition is... Mexican and margaritas on Christmas Eve.


11. Santa, baby, bring me a .... new iphone, dining room set, bedroom set, a doxie for my husband, and partridge in a pear tree. Oh and for Haven to be this pudgy again.
So the person with the funniest answers will win a $20 e-card to Target, just be sure to link your blog at the bottom. Also, if you are into really funny bloggers, I have the perfect two for you.
Ashton from
A Fluffy Girl Blog
is downright hilarious. Girlfriend needs her own reality show. She is one of the blogs that I read every.single.day because of her off the wall humor and inappropriate gifs. Not only is Ashton a little blonde comedian, she is also a little work out queen. She has some great progression pictures
HERE
. Ashton is all about country music, margaritas, and her furbabies. Go LOL over
HERE
and be sure to add her to your bloglovin' feed
HERE
.
Heather from
I Do What I Want
is my long lost best friend. Everything she writes, I'm like "Yep!" I think she is hilarious and all over the place... if I only I lived in Austin and could creep on her in real life. Heather is the cool girl that can drink, remodel, run races, and stay naturally thin without even trying. It would be easy to hate her but she is so damn cute and funny. Please head over to her blog
HERE
and be sure to follow her on bloglovin
HERE
!
Also, today my friend's
Jenn
and
Amber
are hosting a Christmas linkup too! Feel free to merge them both together. My people should have called their people about posting these on the same day.
I get paid every other Thursday... and today is NOT that Thursday. So I am a grouch. But linkup at the bottom anyway. :)